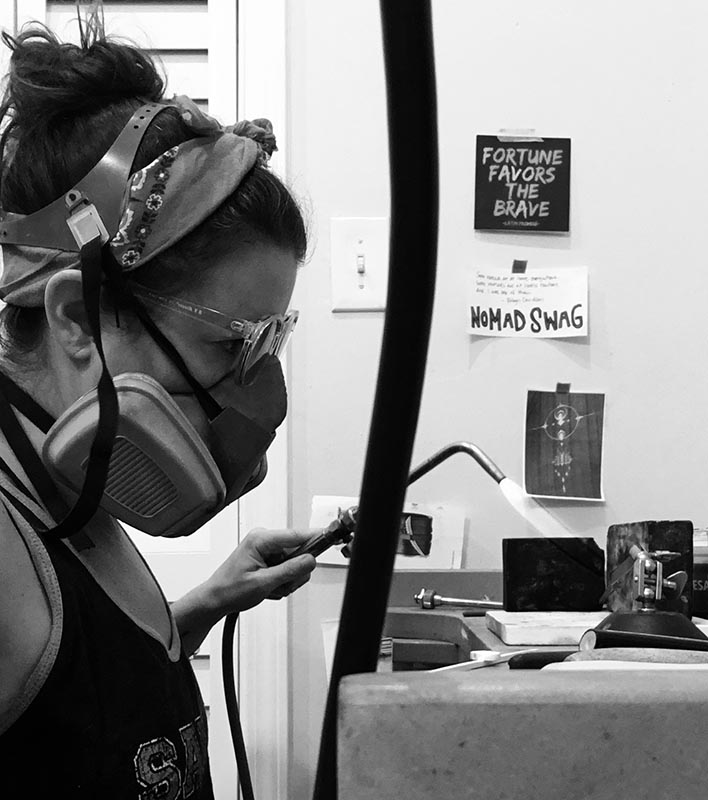 BIO
Emily Zawislak began her study at The New Orleans school of Metalsmithing, and these classes sparked a deep love and appreciation for the craft. Her work includes both one of a kind small sculptural pieces and small batch contemporary jewelry in sterling silver, brass, 14k gold, and semi-precious stones.
Moving from urban centers, to high altitude mountains, to the ocean, her environment has always been in flux, and she is constantly observing. The latest collection is inspired by celestial bodies, and by the idea of our ever-changing horizons, both as we physically move through the world, and as we gain new personal vistas to challenge and change our relationship to it.
PROCESS
I use traditional metalsmithing techniques to create objects for the body that strive to achieve a balance between strength and fragility, groundedness and curiosity. In my metalwork, I am interested in how the material and processes inform the design, and am motivated by the energy transfer from my hands to each individual piece.
I'm intrigued by the notion that the piece is not finished until worn on the body, and always keep in mind who will be wearing it as I am creating it.